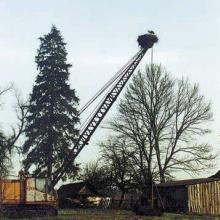 Overview
Situated along the upper reaches of the Kotra River by the border with Lithuania, the Site is composed of waterlogged floodplain forests, raised bogs, transition and fen mires, floodplain meadows and a network of overgrown canals. It supports some 635 species of vascular plants and 156 vertebrates. The diversity of the natural habitats and the inaccessibility of the wetlands create favourable conditions for many rare plant and animal species listed in the National Red List, including the lesser spotted eagle Aquila pomarina and black stork Ciconia nigra, which use the Site as breeding and foraging grounds. The Site provides important water protection and regulating functions for the transboundary wetland complex. Remains of settlements from the Stone and Bronze Ages have been discovered, as well as numerous medieval burial grounds, and there is an important World War II memorial. There is also an information centre, an ecological trail and two tourist routes. The Site is used for forestry, cattle grazing, hay making, cropping, hunting, and gathering of berries and mushrooms. The main threats to its ecological character relate to drainage, river embankment, forest reclamation, fires, overgrazing, poaching and changes in the hydrological regime as a result of adjacent melioration systems. A management plan was prepared in 2015 and the implementation of priority management activities is planned for 2018-2020.
Transboundary designation:
Together with Cepkeliai Ramsar Site in Lithuania (No. 625), Kotra Ramsar Site is part of the Kotra-Cepkeliai Transboundary Ramsar Site established in 2010.
Administrative region:
Grodno Oblast, Shchuchyn District
National legal designation:

National landscape - Kotra
Downloads